Dr Carlisle George, gives interview on cyber crime to "Internet mirror" magazine.
January 2008
Dr Carlisle George, Barrister & Senior Lecturer in the School of Computing Science, was featured in the January 2008 issue of the Serbian magazine Internet mirror - Business & Technologies, giving an interview on cyber crime. The full interview is published in the hardcopy of the magazine and a short summary is given online (in Serbian) at the Magazine's website. The full English version can be read below.
Frauds without borders
by Nemanja Pašalic, January 2008
Internet mirror - Business & Technologies
Carlisle George, a lawyer and a lecturer at the School of Computing Science, Middlesex University in London, claims that the cross border character of cyber crime demands inter governmental coordination inaugurated by the Budapest Convention in 2001.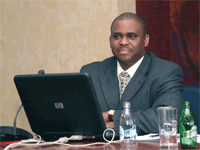 Carlisle George is a lawyer and a lecturer at the School of Computing Science, Middlesex University in London, and his main area of interest is legal aspects of modern technologies. He is an expert in the international cross border dimension of widespread cyber crime. He was in Belgrade last November as a speaker at the TELFOR conference. It was an opportunity for him to point out some important facts regarding cyber crime to readers of Internet mirror.
The Convention on cyber crime was held in Budapest in 2001. What benefits has it brought and are things going better in recent years?
- The cyber crime convention carries many benefits for countries which sign and ratify it. It enables harmonization of offences, as countries are asked to define criminal actions in their legal acts according to four categories. Those are security breaches (hacking), fraud and forgery, copyright offences and child pornography. The Convention likewise sets procedures for detection, investigation and prosecution of cyber crime offences, and the collection of electronic evidence of other criminal activities. Finally, the Convention defines a quick and efficient system for international cooperation. This forces signatory states to engage in cooperation at the highest level possible and to minimize all obstacles in the way of investigating and punishing offenders. Cooperation includes extradition as well.
Extradition
Please explain extradition in the terms of the Budapest Convention.
- The important point is that extradition does not require "dual criminality", what usually happened in past. This means that a person A can be delivered to country B, even if a punishable act is not considered to be criminal in the country of origin, but is defined as punishable in the country where it's been committed. For example, it is illegal in France to sell objects in relation to Nazism, which is not the case in many other countries. Someone out of France might sell these objects to someone in France over the Internet, and therefore commit a criminal offence. France authorities may ask for extradition of that person if the person is located in the territory of signatory countries.
What suggestions would you give to Serbian institutions regarding the delivery of legal acts and regulations in this field?
- I believe that Serbian legislators must look at what happens in western countries, where the Internet is in much more widespread use. They will be able to learn a lot about different types of cyber crime, and the challenges that legislative and regulatory bodies face. One of the main areas where Serbian authorities should invest in is digital forensics. Also, ratifying the Convention on Cyber crime will lead to advanced international cooperation. That is of extreme importance, as most sophisticated criminals are in other countries, out of national jurisdiction.
British experience
What are current trends with cyber crime in Great Britain?
- The most recent trend is usage of "botnets", armies of computers infected with malicious software, without the knowledge of computer owners. These infected computers transmit viruses, phishing frauds, spam, spyware, keyloggers and denial of service (DoS) attacks. There are also many of the common types of cyber crime in Great Britain. There's a lot of phishing frauds, child pornography, hacking, viruses, offences against individuals (threatening e-mails, blackmailing), and criminal activities related to infringement of intellectual property rights.
It seems that cyber criminals are always one step in front of the law?
- A lot of cyber crime offences have been operated by organized criminal groups with huge resources for research and improvement of technical skills. Authorities in Great Britain are facing the fact that it is almost impossible to supervise these activities due to their volume, increased sophistication of attacks, inadequate resources for protection and great difficulties in collecting evidence.
What was the greatest challenge in Great Britain during the implementation of laws and regulations in this field?
- I think that one of the greatest challenges was the need for awareness and understanding of all the possibilities that technologies have in potential criminal activities. Rapid development of technologies must be apprehended in the sense of securing adequate and up-to-date addressing of criminal activities. Generally, legislation is still not able to keep the step with technological progress. For example, the Computer Misuse Act brought in 1990 was updated in 2006 to address DoS attacks, because the old version simply did not foresee them.

Summary: https://www.intobiz.info/e107_plugins/content/content.php?content.55
January 2008