Dr Carlisle George - invited speaker at Cyber Security Conference 2009, Serbia.
November 2009
Dr Carlisle George, Senior Lecturer in the School of Information Sciences and a Barrister of Lincoln's Inn was an invited speaker at the International Conference on Security in Cyberspace, organised by the Institute for Strategic Research of the Sector for Defence Policy, MoD, Serbia, 18-19, November 2009, Serbia Palace, Belgrade, Serbia. The conference included participants from the UK, US, Norway, France, Switzerland, Estonia and Serbia.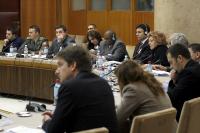 In his talk, Dr George focused on identifying risks and threats in cyber space, and discussing various technical, policy and legal approaches currently taken by various countries and institutions to address these threats. Dr George also participated in panel discussions aimed at gaining a better understanding of the challenges that cyberspace poses, how this affects Serbia and giving recommendations for the future.
November 2009