2022 Keynote
We are very pleased to announce the following Keynote Lecture by Dr Mauro Dragone (Assistant Professor, School of Engineering and Physical Sciences, Heriot-Watt University, UK): 
"IoT, Cloud and Robotics for Ambient Assisted Living"
Abstract: Robots and autonomous systems have the potential to revolutionise the future provision of health and social care. In this talk I will provide an overview of relevant research activities with the focus on ongoing projects at the UK National Robotarium, Heriot-Watt University, Edinburgh. The overarching goal of our research is the development of user-friendly smart robotic environments combining Internet of Things (IoT) and Robotic technology working together to assist humans, triage issues and facilitate assessment, communication and connectivity as part of personalised and connected health and social care practices. The talk will also illustrate how we use IoT, Cloud and Robotic technology, to support collaboration and foster innovation in the sector.
Dr Mauro Dragone is an Assistant Professor at the Research Institute of Sensors, Signals and Systems (ISSS). His research focuses on building smart environments combining Artificial Intelligence with Internet of Things and Robotics, especially for assisted living applications. He initiated and led the EU project RUBICON (FP7-ICT-269914), a €2.5M project which investigated cognitive architectures for self-learning Ambient Assisted Living (AAL) systems. At Heriot-Watt, Dr. Dragone set up the Robotic Assisted Living Testbed (RALT) – a `Living-Lab', part of the UK National Robotariun, designed to facilitate data collection and user-driven design and testing of innovative and practical solutions for healthy ageing and independent living. He is involved in EU projects developing new benchmarks for assistive robots, and he is one of the UK Co-investigators of the EPSRC Healthcare NetworkPlus EMERGENCE. The network is bringing toghether researchers, businesses, end-users, health and social care commissioners and practitioners, policy makers and regulatory bodies in order to build knowledge and capability needed to enable healthcare robots to support people living with frailty in the community.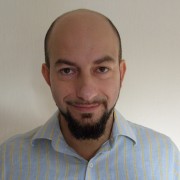 Lengthier description of Keynote here: Keynote MD